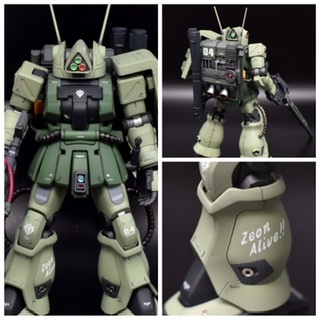 Remodeling: HGUC Zaku II Sniper Custom. Images, full info and credits
Since the Zaku Sniper was the head of a forced reconnaissance type Zaku based on the Zaku I, I made a Zaku II sniper that combines the head of a flipper based on the Zaku II.
head on.
The main color remains Zaku.
back.
The school bag is made of Zaku Sniper and is processed so that the power pipe can be connected from the Zaku body.
Main camera.
If you keep the old kit, the camera is protruding too much, so we are narrowing it down. The mouth is opened and the intake is newly built with a plastic plate. The movable camera is a neodymium magnet.
The shield is on the left shoulder so that you can guard the MS when you hold the rifle. I also added armor.
sniper rifle.
The barrel part is opened and mesh parts are put in. Since it is not possible to do post-saddle processing, I put the mesh first and then glued, masked, and painted.
Use a heat machete for close combat in an emergency. I am remodeling the heat nata of Zaku Amazing.
Auxiliary camera that combines detail-up parts in the crotch peculiar to the reconnaissance type.
The legs are masked with the Zeon Alive logo.
Equipped with Rick Dom's beam bazooka.
A state of metal mesh confinement that was a difficult thing.
Work by Marcy
@Marcy_stroke08 on Twitter