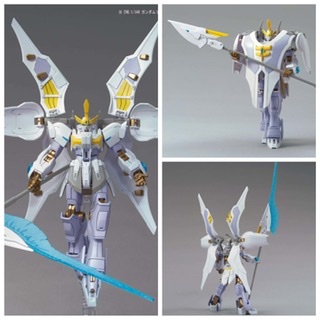 HG 1/144 Gundam Livelance Heaven (Breaker Battlogue): Box Art, many images, full info, release date too
In November 2021, "HG 1/144 Gundam Livelance Heaven" will be released.
Description of item
The "Gundam Breaker Battlogue Project", which links Gunpla and games, will be launched worldwide in the summer of 2021! !!
A remodeled Ms of "Gundam Deathscythe Hell" whose appearance of deploying active cloak is divine. In contrast to the original MS, the whole body is wrapped in white and gold coloring.
Equipped with large beam parts, carry a beam lance that changes into three forms: rod mode, lance mode, and size mode.
In the closed state, it reminds me of the Gundam Deathscythe Hell, which is the base MS, but when the active cloak is deployed due to the new built-in arm structure, it reminds me of an angel with spread wings.
accessories
Rod x 1
Beam lance effect x 1
Foil seal x 1
Hand parts x 1 set
Price: 2,200 Yen