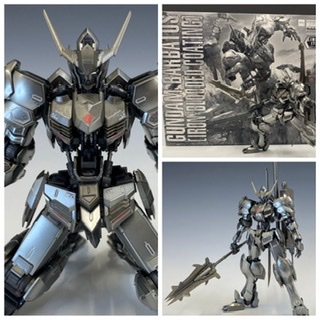 This is the Review for the Limited MG 1/100 Gundam Barbatos Iron Blooded Coating
The "MG 1/100 Gundam Barbatos [Iron Blooded Coating]" to be released at each Gundam Base store on November 13, 2021 has been reviewed.
MG 1/100 Gundam Barbatos [Iron Blooded Coating]
Price: 9,900 yen (10% including tax)
From "Mobile Suit Gundam Iron-Blooded Orphans", MG 1/100 Gundam Barbatos is now available with a profound iron blood coating!
The special specifications that express the heavy brilliance of metal make the overwhelming density and amount of details unique to MG even more outstanding.
Cockpit hatch opening and closing.
Silver plating is used for the cylinder.
The internal structure of the Gundam frame deeply examines the settings in the play and reproduces the details.
In the standby posture, swinging to the left and right and axial movement of the hip joint are reproduced.
You can enjoy the characteristic waiting pose overlooking.
Mace x 1
Tachi x 1
300mm smoothbore x 1
A set of hand parts
Action base joint
1/100 Mikazuki Augus
The mace can slide the grip and tip, and a pile bunker is ejected from the tip.
Furthermore, as an MG original gimmick, you can also remove parts from the mace and equip it as a dagger.
Equipped with a sliding and folding gimmick for the barrel.
It can be deployed without replacement.
It was "MG 1/100 Gundam Barbatos [Iron Blooded Coating]".
The popular "MG 1/100 Gundam Barbatos" is now available in [Iron Blooded Coating], which is popular for its heavy metal expression.
The brilliance of foil stickers such as twin eyes that shine in a calm texture is also a cool gem.
will be released on Saturday, November 13th!