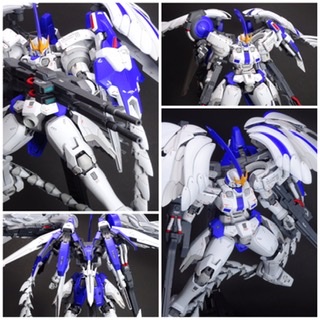 Custom Build MG 1/100 Tallgeese A (Altair) images, info and credits
Anyway, I made a strong Tallgeese!
A is named after the ultimate form of Tallgeese (English name: Altair).
Diverted zero feathers and backpack.
However, there is no trick to put it on as it is, so I left the vernier that is characteristic of Tallgeese.
The Twin Buster Rifle incorporates the idea of ​​a sniper-type Twin Buster Rifle from past HJ examples.
A handle is added to the normal Buster rifle, but it can be stored in the wings.
The neck extends the connecting shaft and is adjusted so that the chin can be pulled.
Adjust the shoulders with plastic spacers so that the weight does not lower them.
The waist is adjusted so that the front and back angles are fixed in a "dogleg" shape so that it can stand in an S shape.
However, it can be swung left and right with a poly cap and a 3 mm shaft.
White is Gaia's EX White
Blue is the Gundam color EXAM Blue 1.
Anyway, I enjoyed making it from beginning to end!
Thank you for watching until the end.
Work by 0026@おおじろ〜
@oojiro144 on Twitter