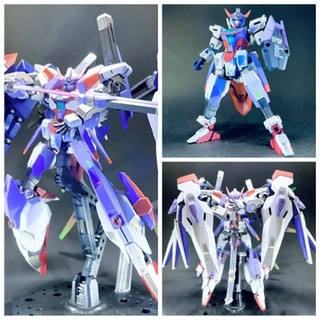 HG Savage Gundam Hiro's dedicated gunpla: many images, full info and credits
The literal translation of the name Savage means savage or brutal, but I chose this name because it was used by foreigners to respect people
I can stand on my own, but I don't want to get moss during shooting, so I fixed it on an action base.
Fluorescent paint is used throughout the body, including the eyes, forehead, and feet, so it emits light when exposed to blue light.
Since the funnel is painted while leaving the original light emitting gimmick, the tip emits light.
Super high speed type super proximity specialized MS
The sheath can be attached to the arm.
This time, the decals were modest because the appearance was quite impactful.
Since the main tactics are close, the beam launchers on both shoulders are set to be used only for restraint and menacing shooting.
I had a lot of trouble storing the 13 funnels.
With the Gaeon backpack removed.
I wanted a storage place for the funnel, so I made my own gimmick with a plastic board that can dock the core fighter on the butt.
It's pretty simple because I don't have the technology or knowledge to do the detailsw
Core Gundam state.
I extended the neck by about 1 mm so that when I pull the chin, I can pull it firmly without interfering with the chest.
Some of the eyes, forehead, and thighs glow with blue light.
The waist uses FX.
Since the FX skirt had a strong impact, I avoided mixing with other emphasis.
There are few decals.
At first, I was planning to use it as a rugged arm, but it's a crap.
The backpack was originally intended to be placed on the waist.
As with the funnel gradation, I was very particular about the sword gradation.
I blew a light silver to make it a little more iron-like than the funnel, and I was careful not to lose the rainbow-colored gradation.
Work by sino
@sinonome_sin on Twitter