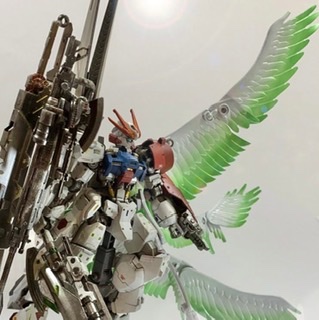 Mixing build HGIBO 1/144 Gundam Astaroth Zeno: images, info
It is a world that connects the Universal Century and the Orphans world line. The main uses Astaroth, Origin and Lupus Rex.
The name is Astaroth's play on his Zeon.
He uses weapons worn on his shoulders. However, since it has wings, it is not good at close combat. Hit and away seems to be better. By the way, this wing does not have the ability to fly.
It is the world line of Orphans, a large sword dual wield. Also equipped with Zaku's ax!
The image of one half is biological and the other half is mechanical. The fantasy color may be too much, but I think it was well organized.
The wings receive sunlight, convert it into energy, and emit it with a cannon. It's an idea from Solar Ray.
At this time, I was planning to wear a weapon that emits solar energy on my shoulder.
However, I thought that it wouldn't work if I turned it forward, so I decided to drop it.
I decided that the shoulder armor was red. I thought that the appearance of the wings would be flashy, so I tried to make the body astringent red and blue.
You can also provide logistical support with a rifle!
Work by Yusuke Ogawa